Whatever.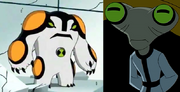 Narrator: IN THIS CORNER WE HAVE-
Brian: Do it already!
Narrator: Fine. BATTLE!
DUM DUM DUN
Brian: *transform* Spirit Pincer! *goes intangible*
Dan: WHERE THE FUDGE ARE YOU? (Transforms) Big Chill! (Turns intangible, then punches Spirit Pincer.)
Brian: *shoots invisible laser everywhere, 3 hits Dan and he fall to the ground, then I transform into Cannonbolt and starts smashing him, goes Ghostfreak, turn intangible, and hides underground*
Dan: Ouch! (Turns into Armodrillo, finds Ghostfreak, peels his skin, turns into Heatblast, then makes tons of light, and Brian fades into dust.) I WIN!
Brian: *morphs back* Safeguard. (transform) WAY BIG! (throws you into the ocean, then starts running arund you super fastly, creating a water tornado. It blowns you away, while you are in the mid-air, I shoots cosmic ray at you, jumps and punched you right in the stomach.) HA!
BRIAN WINS! NOT!
Dan turns into Alien X, and discises you as Paradox, then sends you to the Celestialsapiens, and you can't escape.
DAN WINS! NEVER!
Brian: NEVER. (transforms to Clockwork, open a portal that leads to another dimension. Gets in. Open another portal that leads to Dan. Shoots time ray at him, Dan aged to dust since he isn't in any alien form.)
BRIAN WINS!